Delfins Beach Resort – Bonaire
---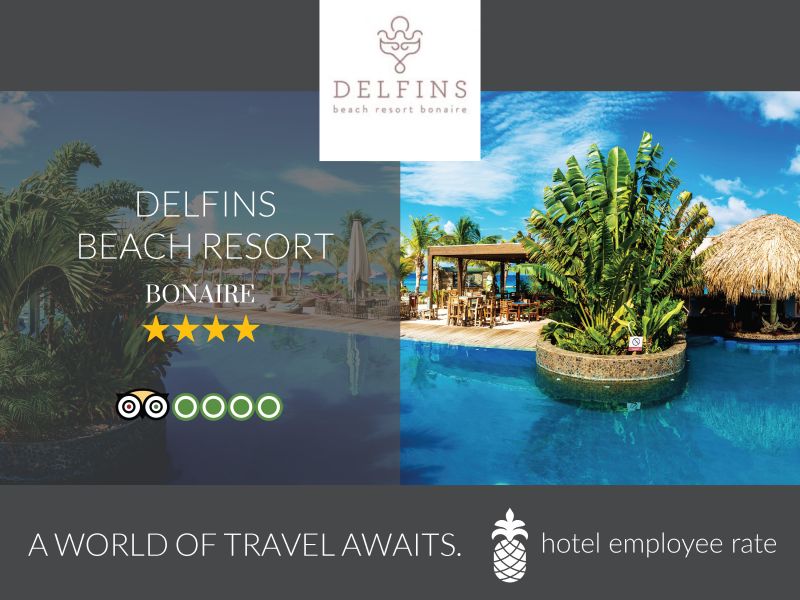 We are proud to spotlight the beautiful four-star Delfins Beach Resort Bonaire as part of the Hotel Employee Rate Travel Program.
Delfins Beach Resort features 148 spacious apartments and 13 villas with high-end amenities. One of Bonaire's trendiest new restaurant, Brass Boer, offers upscale dining with stunning seaside views. Delfins' pool and beach bar will outshine all others. The resort also features the five-star dive center with lessons, high tech equipment and dive air. Visit Delfins Beach Resort to learn more – www.delfinsbeachresort.com
On Bonaire, there is a peaceful ambiance for daily life without the hassle of traffic lights, hustle and bustle, or normal, day-to-day worries. A diver's paradise, Bonaire is an unspoiled gem, offering a number of holiday activities including scuba, snorkeling, kite-surfing, beaches, shopping and a number of eco-tour attractions.
Hoteliers – Join the global Hotel Employee Rate Travel Program today and receive hotel employee rates at first-class hotels and resorts in key destinations worldwide. www.hotelemployeerate.com
#hoteliers#hospitalityindustryBonaire Hotel and Tourism Association (BONHATA)